There's a lot that goes into parenting. Things that you think you understand, feelings that seem easy to imagine. You can swear up and down that you won't yell at your kids in public, that they'll never eat fast food. You can assume a few sleepless nights won't kill you. That you will enjoy every little stage and phase of that tiny human's life.
But until you do it, you don't really know.
And that has been the biggest daily battle of my heart and mind since my motherhood journey began. I'm a pediatric nurse. I know kids. I know how to take care of them, how to talk to them, how to treat every big and little ailment. I thought I had an advantage. But I was wrong. You can hope and pray and imagine every detail of your life, your future. But until it's your present, it's out of your control. And that's a hard reality. It's really really hard.
On July 25, 2014 I received my first dose of motherhood reality. I lost a child. A small, helpless child who was in Heaven before I had barely come to believe they were growing inside me on Earth. I learned for the first time about how painful love could be, in the literal physical sense of miscarrying, and in the overwhelming heartbreak of grief and loss. My first labor of love was for our little saint, James Christopher.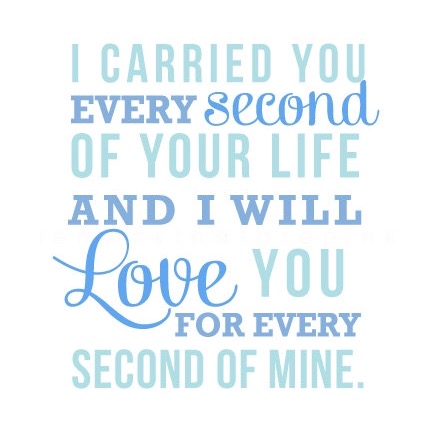 And now here I am, three years later. And today I labor again. For Kolbe. And if I'm really being honest, I write this with frustration and apprehension, not happiness or excitement for the joy that awaits his birth.
Because right now I'm tired. Exhausted. Defeated. It's been a long 24+ hours of timing contractions and wondering if "this is it". We spent part of the night in the hospital being monitored because I thought my water broke. It had not –and let me tell you, as a nurse and as a mom who has been through this, there's nothing more embarrassing and upsetting then when they tell you you're wrong about your water breaking. We came home at 2:30am and I cried for hours. My body is worn out and there's still so much unknown.
This is not how I thought laboring would go. This was not my plan. But just like every other day of motherhood, I'm hit with the harsh reminder that I am not in control. So I will continue to labor. And I will continue to love. And I will do both the best that I can.
And I'll keep sending prayers to our James (and Gianna), asking them to pull some strings for our family. Mother Angelica once spoke a prayer on miscarriage, saying "…You see, the child lives. Instead of the wind he hears the sound of angels singing before My throne. Instead of the beauty that passes he sees everlasting Beauty—he sees My face. He was created and lived a short time so the image of his parents imprinted on his face may stand before Me as their personal intercessor."
Pray for me friends, and I for you. Let's do this together – in some way or another, we are all laboring. Let us not forget the loving.