Dishes, blogs, and my wedding are all on my mind today, but maybe in a different order.
Well, if we're realllllly being honest, it is in that order at the current moment. But today is in fact my wedding anniversary, so it won't be last on the list after this post (speaking of which, I'm working on a fun post all about my wedding for later this week… spoiler alert: it will be as long as it is cheesy, consider yourself warned).
Dishes. Who here likes doing the dishes? Anyone? I feel like everyone has a chore that they hate. And mine is doing the dishes. I don't mind much else, not even cleaning the bathrooms. I just dread, dread, DREAD doing the dishes. And yes, by doing the dishes I mean loading and unloading the dishwasher (no eye rolls please). So here's the real problem in our house: my husband also hates doing the dishes. We both jump at the chance to start the laundry, clean the cloth diapers, ANYTHING but the dishes. And then one day I saw a beautiful quote by a beautiful Saint of a woman (literally), and began to change my way of thinking.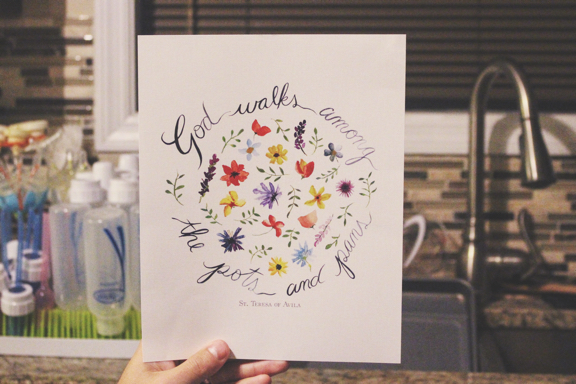 Seriously, read that. Read it again. Whoa. As a wannabe homemaker who moonlights as a pediatric nurse, this touched my heart. God walks among the pots and pans. MY pots and pans. So I've made it my prayer to do the dishes. Not necessarily my DAILY prayer, because I still avoid the kitchen sink, but I'm working on it — progress, not perfection people! I offer them up. For my husband, who works so hard outside the home, and then comes home and does even more for his family. For my daughter, who deserves clean sippy cups and needs to learn responsibility by watching her mama suck it up and scrub a plate. I offer them up for the person praying for a family to dirty their dishes, or maybe for the person who prays for enough food to dirty a dish. It's transforming my heart to pray through my chores each day. God works in the most mysteriously messy ways.
And, believe it or not, doing the dishes for my family is more than just my post du jour, but also a lot of why I chose the title "Putting on Love". Colossians 3:12-14 reads:
Put on then, as God's chosen ones, holy and beloved, heartfelt compassion, kindness, humility, gentleness, and patience, bearing with one another and forgiving one another, if one has a grievance against another; as the Lord has forgiven you, so must you also do. And over all these put on love, that is, the bond of perfection.
As usual, the Bible wins the long, semi-confusing, run-on sentence award. But if you take a minute to understand the sentiment of the verses, it's really quite beautiful. I spent a LOT of minutes thinking and praying over these words with my husband as we prepared for our marriage, and we chose it as a reading at our wedding (bonus: the wedding has made it in the post!). What we took from this little treasure was to make love a daily choice, and not as a second thought, but as the absolute top priority. To literally figuratively "put on" love like we put on our clothes, and do our best to show that love in all that we do. It's not always easy. And as a seasoned wife of three years I can tell you: I have no idea what I'm doing. But it's working. Some days are hard. Some days are damn near impossible. Some days the dishes take over the kitchen and we hide downstairs with take out. But everyday, as cheesy as it sounds, we put on love. We (wo)man-up and show each other that our vows were not empty promises.
So here I am, three trips around the sun with the guy who can make me wheeze-laugh at jokes no matter how stupid they are, kills every bug who enters our house no matter how unthreatening they appear (they're all threatening), and who always remembers to show me that he loves me. I'm a lucky lady, dishes and all.